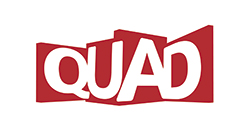 QUAD is an international centre for engagement in contemporary art and film, based in Derby.
The year round programme focuses on major exhibitions, professional practice for artists, mass participation, commissions, independent film and the creative use of emergent technologies.
QUAD is a charity focused on intercultural dialogue through supporting diverse audiences to engage, develop skills and contribute to contemporary culture. Major projects include FORMAT International Photography Biennale and the UK's largest international portfolio review, as well as recent exhibitions by Gibson/Martelli and Susan MacWilliam, and the forthcoming show KAPUT by Benedict Drew.